Location & Access
Located on the White Gold property along the Ryan's Trend, a 6.5 km long by 1 km wide northwest-southeast striking trend of anomalous gold and arsenic in soils which extends from the Ulli's Ridge target in the south to the Teacher showing in the north. The Ryan's Surprise and Ulli's Ridge targets are located at the southern part of the Ryan's Trend, approximately 2km west of the Company's flagship Golden Saddle and Arc deposits and 11km south of the Company's VG deposit.
Access to the White Gold property is provided by fixed wing airplane from Dawson City and Whitehorse to Thistle Creek airstrip and by boat from Dawson City to a barge landing on the Yukon River. The Company's Thistle Camp is located at the southernmost part of the property and is the base of operations for all exploration. A gravel road that is used extensively by placer miners connects the Camp with the airstrip and barge landing, which are located approximately 7.5 km east and 4.5 km northwest respectively of the Camp. Access to the Golden Saddle and Arc deposits to the north is provided by a 21 km long exploration road located 600 m west of Camp.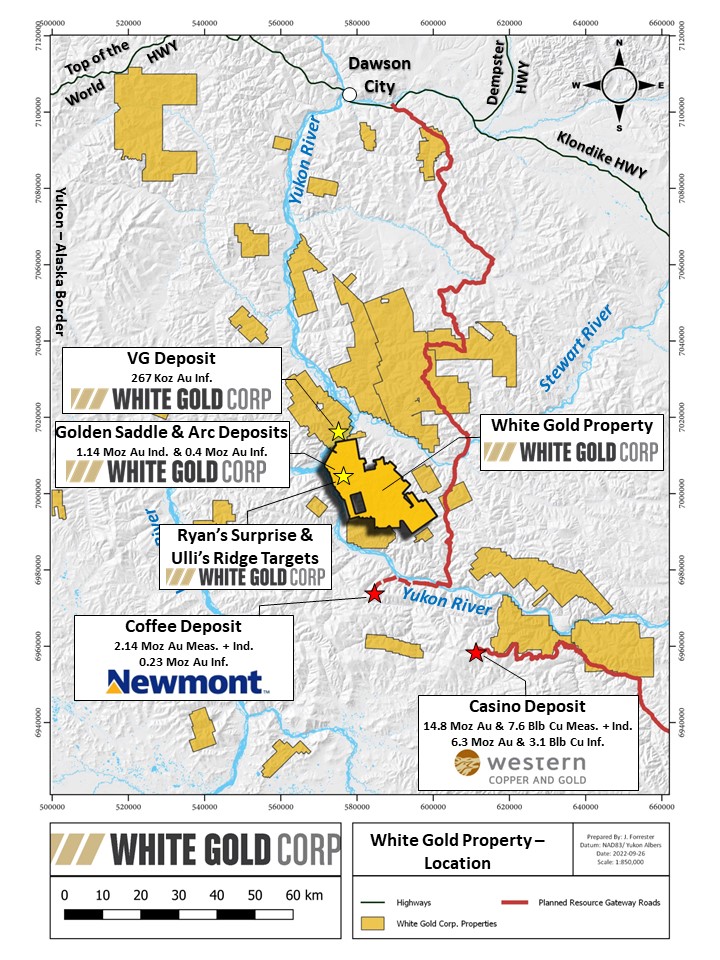 Size
1,792 claims covering approximately 34,000 hectares
Work to Date
Soil Sampling, GT Probe Sampling, Geological and Structural Mapping and Interpretation, Airborne and Ground Geophysical Surveys, LiDAR Surveys, Mechanical Trenching, RAB, RC and diamond drilling.
Target (Mineralization)
Orogenic gold deposits.
Qualified Person
Terry Brace, P.Geo. and Vice President of Exploration for the Company is a "qualified person" as defined under National Instrument 43-101 – Standards of Disclosure of Mineral Projects and has reviewed and approved the content of this project summary.
Overview
Gold mineralization was initially discovered at Ryan's Surprise by Kinross Gold Corporation (TSX: K, NYSE: KGC) in 2011 with diamond drill hole WGRS11D0003 returning 6.33 g/t Au over 6.56 m from 159.44 m. Subsequent drilling by the Company in 2018 through 2021 has continued to encounter gold mineralization in multiple zones which remain open along strike and down-dip. Diamond drilling in 2020 returned several high-grade gold intercepts including 17.4 g/t Au over 3.47 m in hole WHTRS20D013, 10.96 g/t Au over 3.76 m in WHTRS20D017, and 8.69 g/t Au over 12.3 m in WHTRS20D018. Highlights of the 2021 diamond drilling program including 1.88 g/t Au over 15.00 m in hole WHTRS21D020, 3.35 g/t Au over 6.05m in WHTRS21D021, and 10.36 g/t Au over 3.25 m in WHTRS21D026. To date, drilling at Ryan's Surprise has encountered gold mineralization over an area measuring approximately 400m E-W by 400m N-S and to a vertical depth of 450m and remains open along strike to the west and down-dip.
The Ulli's Ridge target is located immediately south of Ryan's Surprise. Early season 2021 RAB drilling at Ulli's Ridge delivered encouraging results which included 1.35 g/t Au over 21.33 m in hole WHTULR21RAB005 and 4.67 g/t Au over 6.10 m in hole WHTULR21RAB006. Follow-up maiden diamond drilling near the end of the 2021 field season was similarly encouraging, highlighted by a high-grade intersection grading 6.94 g/t Au over 19.50 m in hole WHTULR21D004 and 1.36 g/t Au over 18.50 m in WHTULR21D005. To date, drilling at Ulli's Ridge has identified gold mineralization along an approximately 650 m strike length with mineralization remaining open along strike and at depth.
Geological modeling of both the Ryan's Surprise and Ulli's Ridge targets indicates many similarities in terms of style of mineralization and structural controls. The Company feels that excellent opportunities exist to expand these zones and additional drilling between the zones will help determine if they form separate zones, or if they are part of a single larger mineralized system. Similarly, the 6.5 km long Ryan's Trend further to the NNW remains substantially under-explored and continues to represent excellent potential for new discoveries proximal to our flagship Golden Saddle deposit.
Note: All reported widths are those measured along the length of the drill hole. True widths are currently unknown.
Related News