Location & Access
The Betty property is located approximately 150 km south of Dawson City and 300 km northwest of Whitehorse in west-central Yukon. The property is strategically located in the southern part of the Company's land package, approximately 15 km northeast of Western Copper and Gold Corporation's (TSX: WRN, NYSE: WRN) Casino porphyry deposit with Measured & Indicated Resources of 14.8 Moz gold & 7.6 Blbs copper and Inferred Resources of 6.3 Moz gold and 3.1 Blb copper(1) and 40 km east of Newmont Corporation's (NYSE: NEM, TSX: NGT) Coffee gold deposit with Measured & Indicated Resources of 2.14 Moz gold and Inferred Resources of 0.23 Moz gold(2).
Currently there is no road access to the Betty property and access is provided by helicopter. However, the proposed Casino Road which forms a component of the Resource Gateway Project, a jointly-funded road infrastructure project by the Government of Canada, the Government of Yukon and the mining industry, passes along the southern boundary of the Property. Fixed-wing airplane access from Dawson City and Whitehorse is available to the Casino airstrip located 15 km to the southwest, and the Canadian Creek barge landing on the Yukon River provides a means of transporting bulk supplies to the project.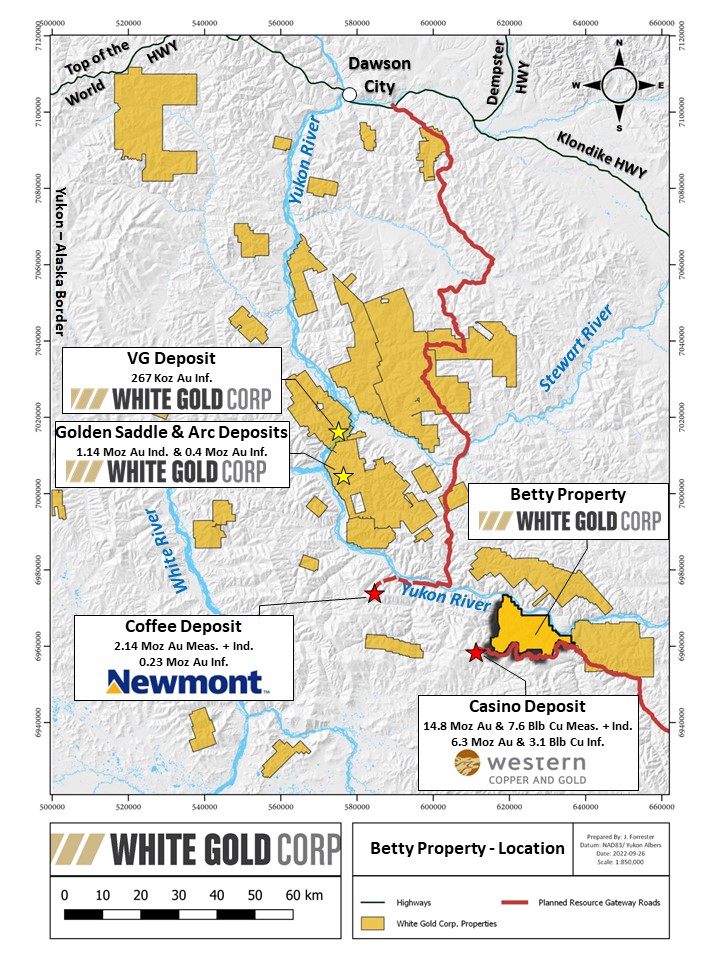 Size
860 claims covering approximately 17,000 hectares
Work to Date
Silt Sampling, Soil Sampling, GT Probe Sampling, Rock Sampling, Geological and Structural Mapping and Interpretation, LiDAR surveys, Ground and Airborne Geophysics, and RAB, RC and Diamond Drilling.
Target (Mineralization)
Orogenic Gold and Intrusion-Related Gold Deposits
Qualified Person
Terry Brace, P.Geo. and Vice President of Exploration for the Company is a "qualified person" as defined under National Instrument 43-101 – Standards of Disclosure of Mineral Projects and has reviewed and approved the content of this project summary.
Overview
The Betty property is located on the eastern strike extension of the Coffee Creek Fault, which hosts the Coffee deposit, and covers multiple gold-in-soil anomalies, including the Betty Ford and Mascot targets.
At the Betty Ford target, maiden diamond drilling in 2021 intersected a newly identified polylithic breccia unit that hosts significant near-surface gold mineralization. Hole BETFD21D001 intersected 1.17 g/t Au over 48.0 m from 19.0 m and hole BETFD21D003, located 100 m to the east, intersected 3.46 g/t Au over 50.0 m from 33.0 m. Additional diamond drilling and RC drilling in 2022 will further evaluate the Betty Ford target to determine the extent and continuity of mineralization.
The Mascot target is located approximately 5 km east-southeast of the Betty Ford. The Mascot area is underlain by intrusive rocks and covers a large cluster of gold-in-soil geochemical anomalies measuring 4 km E-W x 4 km N-S. In 2012, previous operator Ethos Gold Corp. (now Prospector Metals Corp., TSXV: PPP; OTCQB: ETHOF; Frankfurt: 1ET) carried out an RC drilling program at Mascot, completing 61 holes totalling 7,132 m. Ethos's drilling targeted gold soil anomalies with 50 m sample spacings. In 2020 the Company carried out infill soil sampling at 25 m spacings to better define the anomalies. Additionally, a new structural geological interpretation has helped to better identify structural controls on gold mineralization. Maiden diamond drilling in 2022 is testing 3 of the highest priority mineralized zones identified in the Ethos RC program, including the Page zone (2.62 g/t Au over 41.1 m in hole BETR12-022), the Boop zone (29.75 g/t Au over 3.10m in BETR12-012 and 2.19 g/t Au over 10.7 m in BETR12-014) and the Davis zone (1.48 g/t Au over 21.3 m in BETR12-007).
Additional exploration work planned in 2022 includes RC drilling which is testing several additional targets elsewhere on the property including the Black Betty target located directly on the Coffee Creek Fault approximately 5 km west-northwest of Betty Ford, and the Betty Grable target which may represent a strike extension of the Betty Ford 1.5 km to the west.
Related News
References:
Casino Project, Form 43-101F1 Technical Report, Feasibility Study, Yukon, Canada. Prepared for Casino & Western Copper and Gold by M3 Engineering & Technology Corporation, Effective Date June 13, 2022, Issue Date August 08, 2022.

Newmont Corporation news release titled "Newmont Reports 2021 Mineral Reserves of 93 Million Gold Ounces and 65 Million Gold Equivalent Ounces", dated February 24, 2022.
Note: All reported widths are those measured along the length of the drill hole. True widths are currently unknown.