White Gold Corp Commences Drilling at JP Ross Property and Brings Second Diamond Drill Online at White Gold Properties
June 21, 2018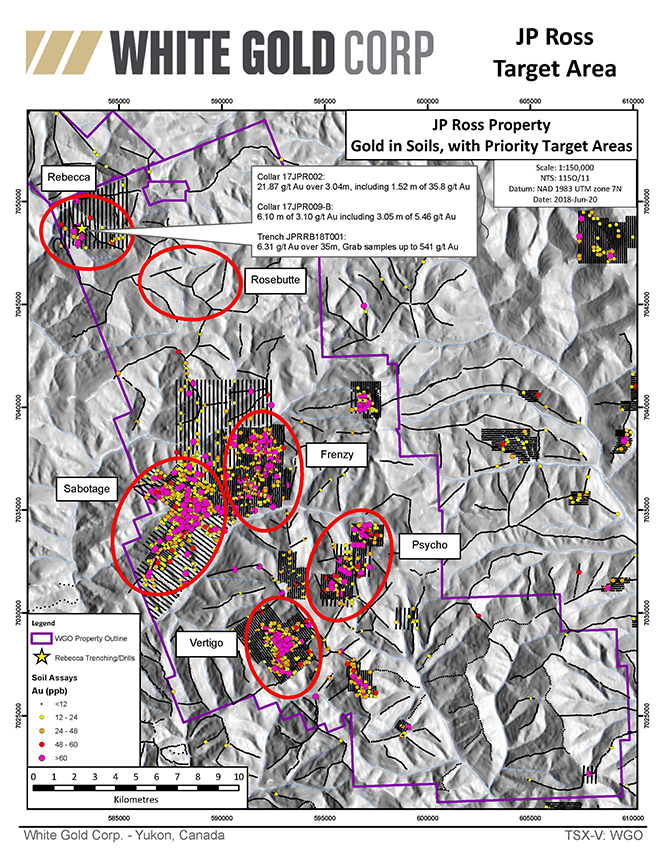 White Gold Corp. (TSX.V: WGO, OTC – Nasdaq Intl: WHGOF, FRA: 29W) (the "Company") is pleased to announce the commencement of rotary air blast ("RAB") drilling on the JP Ross property and the operation of a second diamond drill on the White Gold property. The Company now has five drills in operation across its Yukon land package as part of its 20,000m 2018 drill program.
The JP Ross property contains four highly prospective targets which are being drill tested this year – the second year of the Company's systematic three-year regional exploration plan. The additional diamond drill brought to the White Gold property is designed to reach depths of over 400m and will be used to drill step out holes on the Golden Saddle deposit which has been shown to remain open down-dip and down-plunge and increase in grade at depth.
Highlights Include:
Two diamond drills currently operating on the White Gold property, focused on expansion of known mineral resource at Golden Saddle and Arc deposits.
RC drill operating on White Gold property, focused on exploration of nearby satellite targets that have displayed similar characteristics to known deposits.
Up to 30 RAB holes planned for the JP Ross property across 4 targets areas - Rebecca, Sabotage, Vertigo, and Frenzy.
Drilling on the JP Ross property will follow up on 2017 RAB drill results which ranged from trace up to 21.87 g/t Au over 3.04m including 1.52 m of 35.8 g/t gold on hole 17JPR002 and 6.10 m of 3.10 g/t gold including 3.05 m of 5.46 g/t gold on hole 17JPR09-B, as well as historic trench results of up to 6.31 g/t Au over 35m(1) and grab samples of up to 541 g/t Au(1).
Images to accompany this news release can be found at
http://whitegoldcorp.ca/investors/exploration-highlights/.
David D'Onofrio, Chief Executive Officer stated, "With five drills in operation, our 2018 drill program is now in full swing. Two diamond drills will allow us to focus on aggressively growing the existing high-grade deposit at Golden Saddle, and three additional drills will be testing some of our most promising regional exploration targets. Thanks to our highly trained and experienced drill crews, overall production to date has exceeded expectations and we are looking forward to receiving initial lab results. We are also pleased to announce that White Gold will be a featured company at the Yukon Mining Investment Conference & Property Tours from June 22nd to June 26th where we will be showcasing our properties to some of the top investment and geological teams in the industry"
JP Ross Property
2018 exploration on the JP Ross property will consist of an estimated 3,200 soil samples, 580 GT Probe samples, geologic mapping and prospecting, drone surveys, 12.5 line-km of IP-Resistivity surveys, and up to 3,000m (30 holes) of RAB drilling on a minimum of 4 target areas. The bulk of the work will focus on the Rebecca, Sabotage, Vertigo and Frenzy target areas with additional work on other target areas as warranted. The soil sampling will consist of infill sampling within and on trend of the Sabotage target, infill sampling on the Rebecca, grid sampling over an unnamed target area covering the headwaters of Rosebutte Creek associated with very strong stream sediment anomalies (>1 g/t Au), and reconnaissance sampling over unexplored areas with significant interpreted structures.
Historic trenching on the JP Ross property includes historic results from trace to 6.31 g/t Au over 35m (JPRRB18T001)(1), with grab samples of brecciated quartz vein material with visible gold and electrum assaying from trace up to 541 g/t Au & 370 g/t Ag. RAB drilling on the property in 2017 traced a structure over 350m along strike with assay results ranging from trace up to 21.87 g/t Au over 3.05m (hole 17JPR002). Potential quantity and grade is conceptual in nature. There has been insufficient exploration to define a mineral resource at the JP Ross property and it is uncertain if further exploration will result in such target being delineated as a mineral resource.
Reported in Yukon Assessment Report #096205
White Gold Property
The 2018 exploration program on the White Gold Property will focus on the expansion of the Golden Saddle ("GS") deposit down dip and down plunge, infill and expansion of the Arc deposit, metallurgical testing on both the Golden Saddle and Arc and drill testing of other known and conceptual targets on the property including the McKinnon, Donahue, GS East and Ryan's Showing targets. The program is planned to include 8,000m to 10,000m of diamond drilling (Golden Saddle, GS East target and Arc); 6,000m to 8,000m of RC drilling (McKinnon, Donahue, Ryan's Showing, Arc and other targets as warranted) as well as 5.8 line-km of IP-resistivity (Donahue and conceptual target areas); 300 GT Probe samples and 3,000 soil samples.
Initial drill holes will focus on expansion of the GS Main Zone and test the down dip and down plunge extension of the system. Initial drilling depths will range from 500m to 800m evaluating approximately 400m of additional down dip and down plunge potential beyond the current mineral resource. Additionally, 2 to 3 shallow (<300m) drill holes will be placed as infill holes within the current resource area to support metallurgical testing purposes and 3 to 4 holes will be place on the GS East target testing defined geophysical targets on strike with the Golden Saddle, located 600m to the NE. Overall, 8,000m of RC drilling is currently planned for the program with additional drilling to be evaluated pending initial results. Additionally, efforts will be undertaken to review historic core as necessary to build an oxidation model for the deposit and deportment studies on the oxide – transitional – sulfide material in Golden Saddle Zone to assess the potential heap leachability of portions of the Golden Saddle mineralized zone.
The Golden Saddle has seen drill intercepts of up to 3.4 g/t Au over 104m from hole WD-031, 9.2 g/t Au over 31m from hole WD-047; 5.07 g/t Au over 25.38m from hole WD-103; and 4.57 g/t Au over 34m from hole WHTGS17DD-170. The property has a current mineral resource of 960,970 ounces Indicated at 2.43 g/t gold and 262,220 ounces Inferred at 1.70 g/t gold, with mineralization on both the Golden Saddle and Arc known to extend beyond the limits of the current resource estimate and remain open in multiple directions.
Additional drilling will take place this season on the Arc deposit and other nearby targets within the White Gold property. The purpose of drilling on the Arc will be to perform detailed metallurgical assessment of mineralization on the Arc and follow up on previous high-grade drill holes such as include hole WHTARC17RC-005 drilled last year which returned 3.95 g/t Au over 7.62m from 62.48 m depth, including 17.8 g/t Au over 1.52m of from 62.48m depth.
Yukon Mining Investment Conference
White Gold Corp will be participating in the 2018 Yukon Mining Investment Conference & Property Tours from June 22nd to June 26th in Dawson City, Yukon. Presented by the Yukon Mining Alliance and the Government of the Yukon, this five-day event will welcome mining analysts, investment industry professionals and media representatives to the Yukon. Please contact the company via the contact information below if you wish to meet with management during the conference.
About White Gold Corp.
The Company owns a portfolio of 19,606 quartz claims across 30 properties covering over 390,000 hectares representing approximately 40% of the Yukon's White Gold District. The Company's flagship White Gold property has a mineral resource of 960,970 ounces Indicated at 2.43 g/t gold and 262,220 ounces Inferred at 1.70 g/t gold as set forth in the technical report entitled "Independent Technical Report for the White Gold Project, Dawson Range, Yukon, Canada", dated March 5, 2018, filed under the Company's profile on SEDAR. Mineralization on the Golden Saddle and Arc is also known to extend beyond the limits of the current resource estimate. Regional exploration work has also produced several other prospective targets on the Company's claim packages which border sizable gold discoveries including the Coffee project owned by Goldcorp Inc. (disclosed M&I gold resource of 4.1M oz) and Western Copper and Gold Corporation's Casino project (disclosed P&P gold reserves of 8.9M oz Au and 4.5B lb Cu). The Company has outlined an aggressive exploration plan to further explore its properties. For more information visit www.whitegoldcorp.ca.
Qualified Person
Jodie Gibson, P.Geo. and Vice President of Exploration for the Company is a "qualified person" as defined under National Instrument 43-101 and has reviewed and approved the content of this news release.
Cautionary Note Regarding Forward Looking Information
This news release contains "forward-looking information" and "forward-looking statements" (collectively, "forward-looking statements") within the meaning of the applicable Canadian securities legislation. All statements, other than statements of historical fact, are forward-looking statements and are based on expectations, estimates and projections as at the date of this news release. Any statement that involves discussions with respect to predictions, expectations, beliefs, plans, projections, objectives, assumptions, future events or performance (often but not always using phrases such as "expects", or "does not expect", "is expected", "anticipates" or "does not anticipate", "plans", "proposed", "budget", "scheduled", "forecasts", "estimates", "believes" or "intends" or variations of such words and phrases or stating that certain actions, events or results "may" or "could", "would", "might" or "will" be taken to occur or be achieved) are not statements of historical fact and may be forward-looking statements. In this news release, forward-looking statements relate, among other things, to: the anticipated benefits to the Company and its shareholders respecting the Company's objectives, goals and exploration activities conducted and proposed to be conducted at the White Gold properties; future growth potential of the Company, including whether any proposed exploration programs at any of the Company's properties will be successful; exploration results; and future exploration plans and costs and financing availability.
These forward-looking statements are based on reasonable assumptions and estimates of management of the Company at the time such statements were made. Actual future results may differ materially as forward-looking statements involve known and unknown risks, uncertainties and other factors which may cause the actual results, performance or achievements of the Company to materially differ from any future results, performance or achievements expressed or implied by such forward-looking statements. Such factors, among other things, include: the expected benefits to the Company relating to the exploration conducted and proposed to be conducted at the White Gold properties; failure to identify any additional mineral resources or significant mineralization; the preliminary nature of metallurgical test results; uncertainties relating to the availability and costs of financing needed in the future, including to fund any exploration programs on the White Gold properties and the Company's other properties; business integration risks; fluctuations in general macroeconomic conditions; fluctuations in securities markets; fluctuations in spot and forward prices of gold, silver, base metals or certain other commodities; fluctuations in currency markets (such as the Canadian dollar to United States dollar exchange rate); change in national and local government, legislation, taxation, controls, regulations and political or economic developments; risks and hazards associated with the business of mineral exploration, development and mining (including environmental hazards, industrial accidents, unusual or unexpected formations pressures, cave-ins and flooding); inability to obtain adequate insurance to cover risks and hazards; the presence of laws and regulations that may impose restrictions on mining and mineral exploration; employee relations; relationships with and claims by local communities and indigenous populations; availability of increasing costs associated with mining inputs and labour; the speculative nature of mineral exploration and development (including the risks of obtaining necessary licenses, permits and approvals from government authorities); the unlikelihood that properties that are explored are ultimately developed into producing mines; geological factors; actual results of current and future exploration; changes in project parameters as plans continue to be evaluated; soil sampling results being preliminary in nature and are not conclusive evidence of the likelihood of a mineral deposit; title to properties; and those factors described under the heading "Risks and Uncertainties" in the Company's most recently filed management's discussion and analysis. Although the forward-looking statements contained in this news release are based upon what management of the Company believes, or believed at the time, to be reasonable assumptions, the Company cannot assure shareholders that actual results will be consistent with such forward-looking statements, as there may be other factors that cause results not to be as anticipated, estimated or intended. Accordingly, readers should not place undue reliance on forward-looking statements and information. There can be no assurance that forward-looking information, or the material factors or assumptions used to develop such forward-looking information, will prove to be accurate. The Company does not undertake any obligations to release publicly any revisions for updating any voluntary forward-looking statements, except as required by applicable securities law.
Neither the TSX Venture Exchange (the "Exchange") nor its Regulation Services Provider (as that term is defined in the policies of the Exchange) accepts responsibility for the adequacy or accuracy of this news release.
Contact Information:
David D'Onofrio
Chief Executive Officer
White Gold Corp.
(416) 643-3880
ddonofrio@whitegoldcorp.ca