Location & Access
Located on the QV property in west-central Yukon, within the Dawson Mining District, Canada, 85 km south of Dawson City, 360 km northwest of Whitehorse, and 11 km north of the Company's flagship Golden Saddle and Arc deposits.
Access to the QV property is currently provided only by helicopter or by boat from the Yukon River. River transport along the Yukon River from Dawson City is available for five months of the year, during the summer period, and several barge landings are present within 20 km of the Property. A gravel road south from Dawson City to the mouth of Henderson Creek on the west side of the Yukon River allows vehicle access to within 5 km of the edge of the Property. Fixed wing aircraft access from Dawson City and Whitehorse is available to Thistle and Henderson airstrips, located 22.5 km southeast and 27.5 km northeast respectively of the VG deposit.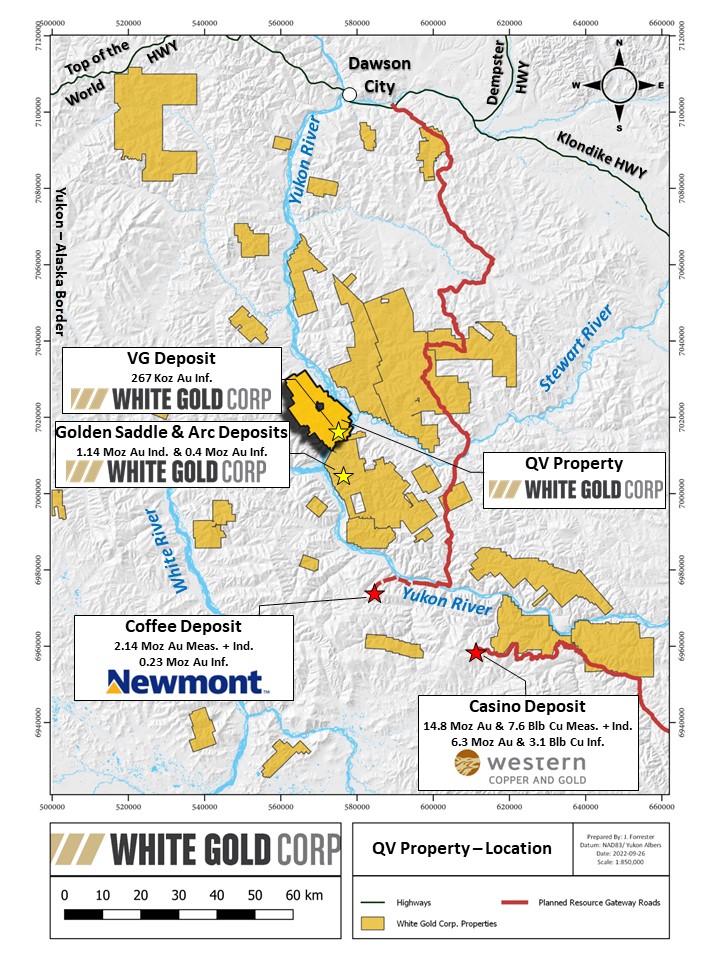 Size
988 claims covering approximately 19,000 hectares
Work to Date
Target (Mineralization)
Orogenic gold deposits
Qualified Person
Terry Brace, P.Geo. and Vice President of Exploration for the Company is a "qualified person" as defined under National Instrument 43-101 – Standards of Disclosure of Mineral Projects and has reviewed and approved the content of this project summary.
The original QV property, which consisted of 822 claims, was acquired from Comstock Metals Ltd. (TSX-V: CSL, OTC: CMMMF) in early 2019. The property was subsequently combined with the Company's adjacent Yellow property claims to form the current property, which comprises 988 claims totalling 19,406 hectares. The property hosts the VG deposit which consists of a series of shallowly northerly dipping lenses of gold bearing mineralization that are almost identical in structural, alteration and mineralogical characteristics to the Golden Saddle deposit located approximately 11 km south on the Company's White Gold property. The mineralized zone(s) come to surface and have been traced for approximately 450 m along strike, to over 500 m depth, and remain open in multiple directions. In addition to the VG deposit, other target areas are known on the QV property that the Company believes warrant further exploration.
In 2019 the Company completed 8 RC drill holes totalling 870.2 m on the VG deposit. The holes were designed to step-out on the deposit along strike to the northeast and southwest, evaluate gaps in the historic resource model, and twin historic diamond drill holes for QA/QC purposes. The results confirmed mineralization extends a minimum of 110 m to the northeast of the historic resource area, added continuity to the existing resource, and twinning produced results for grade and intersected widths that were very similar to those from historic diamond drill holes. Hole QVVVGRC19-001, a step out along strike to the northeast, returned 2.09 g/t Au over 10.67 m from 4.57 m depth, and hole QVVVGRC19-006, an infill hole, returned 1.61 g/t Au over 30.48 m from 86.87 m.
On December 23, 2021, the Company filed the 2021 QV Technical Report, dated October 15, 2021, which includes the Company's updated mineral resource estimate for the QV property, covering the VG deposit. A copy of the 2021 QV Technical Report is available on SEDAR at www.sedar.com.
The updated and current mineral resources for the VG deposit as estimated
Indicated Resource
Inferred Resource
Deposit
Tonnage (000's)
Grade (g/t)
Contained Gold (ounces)
Tonnage (000's)
Grade (g/t)
Contained Gold (ounces)
VG - Near Surface
--
--
--
5,264
1.62
267,600
1. Mineral Resources which are not Mineral Reserves do not have demonstrated economic viability.
2. The estimate of Mineral Resources may be materially affected by environmental, permitting, legal, title, taxation, socio-political, marketing, or other relevant issues.
3. The Inferred Mineral Resource in this estimate has a lower level of confidence than that applied to an Indicated Mineral Resource and must not be converted to a Mineral Reserve. It is reasonably expected that the majority of the Inferred Mineral Resource could be upgraded to an Indicated Mineral Resource with continued exploration.
4. The Mineral Resources in this report were estimated using the Canadian Institute of Mining, Metallurgy and Petroleum (CIM), CIM Standards on Mineral Resources and Reserves, Definitions and Guidelines prepared by the CIM Standing Committee on Reserve Definitions and adopted by the CIM Council.
5. Indicated and Inferred ounces were determined using the following assumptions: gold price of US$1,600/oz, average gold recovery of 92% on the VG, pit slope of 50 degrees, mining cost of CAN$3.50/tonne mined, processing costs of CAN$25.00/tonne milled, G&A costs of CAN$5.00/tonne milled, and a US:CAN exchange rate of 0.76. These assumptions are subject to the completion of a detailed economic analysis and are not to be interpreted as such.
The 2021 updated mineral resource estimate comprises an Inferred Mineral Resource of 267,600 gold ounces within 5,264,000 tonnes at 1.62 g/t gold, representing a 16% increase in inferred resources compared to the historical (2014) resource estimate. The mineral resource is confined to an open pit optimized shell defined by Whittle using parameters derived from similar projects. The VG deposit remains open both down dip and along strike, and drilling to date has been limited to shallow depths. Additionally, several early-stage targets (e.g. Shadow, Tetra and Stewart zones) elsewhere on the property offer potential for a new discovery.
Note: All reported widths are those measured along the length of the drill hole. True widths are currently unknown.
Related News