Location & Access
Located on the White Gold property in west-central Yukon, within the Dawson Mining District, Canada, 95km south of Dawson City and 350km northwest of Whitehorse.
Access to the White Gold property is provided by fixed wing airplane from Dawson City and Whitehorse to Thistle Creek airstrip and by boat from Dawson City to a barge landing on the Yukon River. The Company's Thistle Camp is located at the southernmost part of the property and is the base of operations for all exploration. A gravel road that is used extensively by placer miners connects the Camp with the airstrip and barge landing, which are located approximately 7.5 km east and 4.5 km northwest respectively of the Camp. Access to the Golden Saddle and Arc deposits to the north is provided by a 21 km long exploration road located 600 m west of Camp.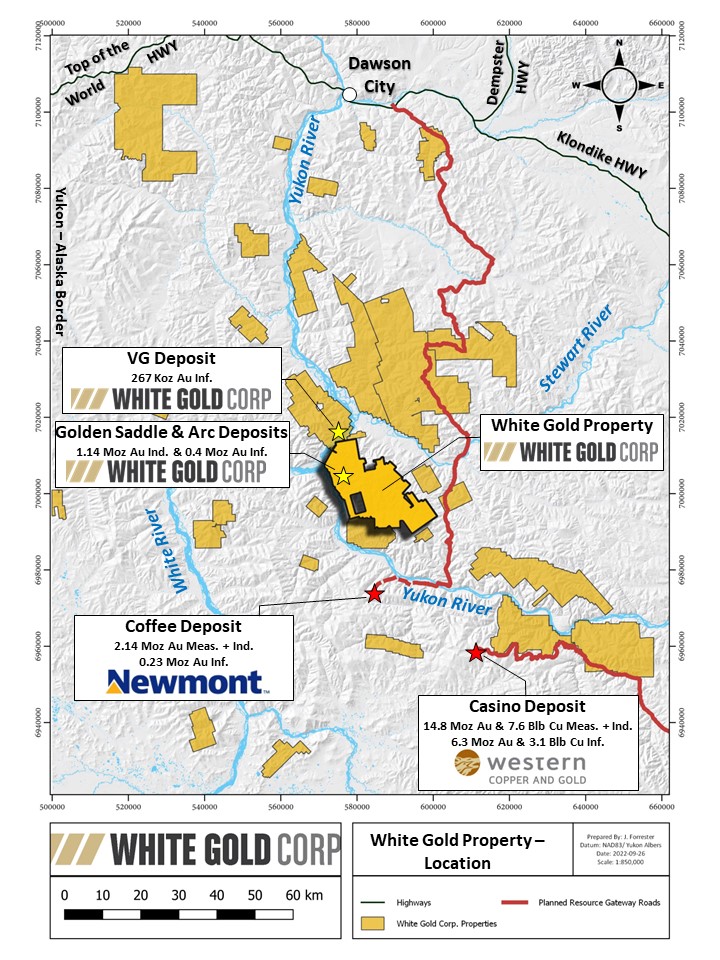 Size
1,792 claims covering approximately 35,000 hectares
Work to Date
Target (Mineralization)
Orogenic gold deposits
Qualified Person
Terry Brace, P.Geo. and Vice President of Exploration for the Company is a "qualified person" as defined under National Instrument 43-101 – Standards of Disclosure of Mineral Projects and has reviewed and approved the content of this project summary.
The Golden Saddle deposit consists of northeast trending, moderately north dipping zones of structurally controlled gold mineralization associated with disseminated to fracture-controlled pyrite, quartz flooded breccias, and stockwork quartz veins with strong quartz-sericite-illite-ankerite alteration within a meta-volcanic and meta-intrusive package broadly consisting of felsic orthogneiss, amphibolite, and ultramafic units. The mineralized zone(s) come to surface and have been traced for approximately 850 m along strike, and to over 600 m depth. Mineralization on all zones is open along strike, down dip and down plunge.
The Arc deposit consists of shallowly northerly dipping lenses of mineralization developed in fracture zones in banded quartzites, where gold mineralization is associated with silicification and the addition of veinlets of arsenopyrite, pyrrhotite, and graphite, with minor pyrite and sphalerite. The zones have been traced for up to 1300 m along strike and 400 m down dip.
On July 29, 2020, the Company filed the 2020 White Gold Project Technical Report, dated May 15, 2020 which includes the Company's updated mineral resource estimate for the White Gold property, covering the Golden Saddle and the Arc deposits. A copy of the 2020 White Gold Technical Report is available on SEDAR at www.sedar.com.
The updated and current mineral resources for the Golden Saddle and Arc deposits as estimated
Indicated Resource
Inferred Resource
Deposit
Tonnage (000's)
Grade (g/t)
Contained Gold (ounces)
Tonnage (000's)
Grade (g/t)
Contained Gold (ounces)
GS - Near Surface
14,815
2.31
1,098,300
3,454
1.43
159,100
GS - Underground
143
4.53
20,800
326
4.33
45,300
Arc - Near Surface
613
1.06
20,800
5,221
1.18
197,700
TOTAL
15,571
2.28
1,139,900
9,001
1.39
402,100
1. Mineral Resources which are not Mineral Reserves do not have demonstrated economic viability.
2. The estimate of Mineral Resources may be materially affected by environmental, permitting, legal, title, taxation, socio-political, marketing, or other relevant issues.
3. The Inferred Mineral Resource in this estimate has a lower level of confidence than that applied to an Indicated Mineral Resource and must not be converted to a Mineral Reserve. It is reasonably expected that the majority of the Inferred Mineral Resource could be upgraded to an Indicated Mineral Resource with continued exploration.
4. The Mineral Resources in this report were estimated using the Canadian Institute of Mining, Metallurgy and Petroleum (CIM), CIM Standards on Mineral Resources and Reserves, Definitions and Guidelines prepared by the CIM Standing Committee on Reserve Definitions and adopted by the CIM Council.
5. Indicated and Inferred ounces were determined using the following assumptions: gold price of US$1,400/oz, average gold recovery of 94% on the Golden Saddle and 85% on the Arc (based on preliminary metallurgical test work), pit slope of 50 degrees, mining cost of CAN$2.50/tonne mined, processing costs of CAN$15.00/tonne milled, G&A costs of CAN$5.00/tonne milled, and a US:CAN exchange rate of 0.77. These assumptions are subject to the completion of a detailed economic analysis and are not to be interpreted as such.
The 2020 updated mineral resource estimate comprises an Indicated Mineral Resource of 1,139,900 gold ounces within 15,571,000 tonnes at 2.28 g/t gold and Inferred Mineral Resource of 402,100 gold ounces within 9,001,000 tonnes at 1.39 g/t gold. This represents an approximately 25% increase in mineral resources compared to the 2018 estimate, with a roughly 18% increase in Indicated Resources and 42% increase in Inferred Resources. The increase at the Golden Saddle deposit was due to additions that included the 2018 GS West Zone discovery, expansion of the GS Main and Footwall Zones and expansion of potential underground ounces. Increases at the Arc deposit were primarily driven by 2018 drilling and updated geologic modelling.
In addition to the Golden Saddle and Arc deposits, numerous other targets exist on the White Gold property on which the Company is conducting ongoing exploration efforts, including diamond drilling. In recent years, two significant advancements have been made near the Golden Saddle and Arc deposits. Diamond drilling in 2018 discovered high-grade gold mineralization at the Ryan's Surprise target, located approximately 2 km west of the Golden Saddle deposit. More recently, diamond drilling in 2021 discovered high-grade gold mineralization at the Ulli's Ridge target, located immediately southeast of the Ryan's Surprise target on the same geochemical trend.
Related News